Caring for the young and older
Government assistance
What a lot of people don't know is that there is a range of great benefits and allowances available to help ease the financial stress on families under these trying circumstances. We recommend doing some research into the benefits on offer as you may be missing out on some well deserved financial entitlements, or contact our team for professional advice.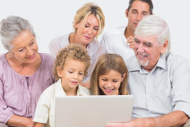 Caring for your Children
There is a range of financial benefits available to assist with the costs of taking care of your children, helping to ease the financial stresses associated with raising a family. Allowances like the Family Tax Benefit and Parenting Payment can provide a boost to your income, while the Child Care Rebate and Child Care Benefit are available for younger children in child care to provide support as you continue with work or study commitments.

Older children who are continuing with study may also be eligible for the Austudy allowance, which helps them to take responsibility for their own financial obligations during their education, easing some stress from your shoulders.

We encourage you to research your options to ensure you are taking full advantage of all of the helpful financial benefits available to you and your family.

Centrelink http://www.humanservices.gov.au/
Caring for your parents
When researching the benefits available for your household, head to www.myagedcare.gov.au to check the range of financial assistance options that your parents may be eligible for. Such benefits include the Age Pension, Seniors Card discounts and Pharmaceutical Allowance, as well as a range of in-home care services.

Any assets your parents may have can also be restructured to make the most of their pension and Aged Care benefits. Professional help is recommended when assessing these options as asset restructuring can be complex and will be unique for each different circumstance.

There are also a range of benefits that may be available to you as you care for your parents, like the Carers Allowance or Carers Payment, especially if your parent is living within your house. These allowances provide financial support when your care giving duties restrict your ability to work full time and also offset some of the financial costs associated with care giving.
Balancing Your Finances
We understand how quickly finances can pile up. Just when you think you've gotten on top of things, the bills seem to all roll in at once; loan repayments, school fees, power bills and every day costs like groceries and entertainment. It can all seem very overwhelming. When taking care of your children and your parents at the same time this financial pressure can be magnified. So just how can you cope with this financial responsibility?

As a caregiver, the best way to stay on top of your finances is to establish a budget that helps you to live within your means. A realistic budget will identify your incoming and outgoing costs, taking into account your income along with the expenses required to care for your household. A successful budget needs to go beyond your expected everyday expenses and factor in any unscheduled loss of income that may arise during your care giving duties due to carers leave, medical appointment and other family commitments.
Getting professional advice
Figuring out the right financial choices for you and your family can be confusing, but we're here to help you make the best decisions possible as a caregiver to get on top of your finances. Contact us today and enjoy peace of mind for you and your family.